Its founder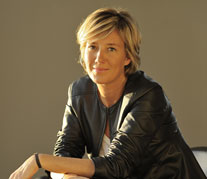 Olivia Cuir lays claim to two areas in France, the first being the North where she grew up with her family and the second, the Lyon region where she has been living now for a number of years. One of them is the reason she loves the light and the ocean and the other has given her a passion for an art de vivre that whilst being firmly attached to tradition, is capable of launching itself into the future.
After gaining a degree in History and Geography followed by a Master's Degree in Strategy and Communications at the ISTC in Lille, she joined TF1 in Paris and then Publicis ( Deuxième Communication) in Lyon, where she was a senior press/public relations consultant for nine years.
She founded the ESPRIT DES SENS communications agency in March 2008 which specialises in the New Way of Living.
2010 saw her launch RENDEZ VOUS 21, a series of international one-off events (Paris, New York and Seoul) to present multi-brand products to a core target group by way of demonstrations, exhibitions and panel discussions.
Since 2013, as well as running EDS, she has been managing LYON CITY DES!GN Urban Forum, a consumer exhibition on Urban Design and LYON CITY DES!GN Arena, a cycle of conferences for design specialists.
Olivia Cuir provides her clients with a structured communications strategy, a desire to exchange and share information and creativity at all times.